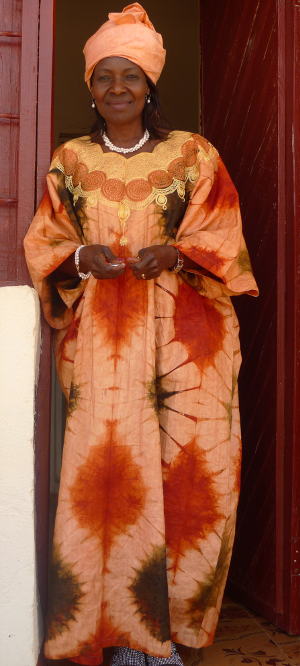 Historique
A woman
In 2003 Fanny Ukety from Bunia, Ituri, moved to Geneva when her husband was appointed to the WHO.
In Eastern Congo, eight years of inter-ethnic wars had left tens of thousands of families in horrific living conditions. Ms. Ukety could not remain silent.
In 2004, she started commuting to Ituri on a regular basis. Visiting the IDP camps, she discovered an overwhelming reality that led her to action.
Ms. Ukety holds a degree in "Business & Administration" and a Bachelor's degree in "Human and Community Development". Her education has helped her to design a microcredit and training project suitable to the post-war context in Eastern Congo.
In 2006, she opened the first CEMADEF office in Bunia. The starting capital was a mere $1,750:Forty-four women were granted their first microloans ranging from $20 to $50.
At the same time, Fanny Ukety began advocating for CEMADEF in Switzerland, supported by her life-long friend, Anne-Christine Horton from Moutier. Together, they launched ASSAFI, a NPO based in Meyrin, Geneva, and recruited a board of six members to manage the organization.
Fanny Ukety has taken to heart the wisdom expressed in the following Congolese proverb:
"After the rain, it is the woman who comes out to clean up the house."
As a recognized leader in her community, Fanny Ukety is passionate and determined. She has dedicated her life to the women of Ituri, whom she supports as they stand up for themselves and walk towards independence.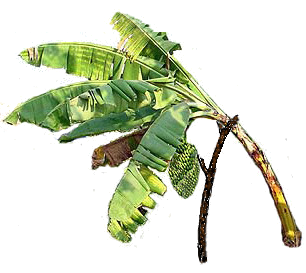 One vision
Facilitate women's autonomy to take care of their families' basic needs, such as food, school fees, housing, and health care.
Train community leaders who make a difference in their environment, trust in themselves, and dare to risk new opportunities.
One System
Since its recognition in 2007, CEMADEF System has followed these guidelines:
Every CEMADEF member belongs to a group of five beneficiaries that have chosen to work together.
They attend a monthly compulsory training session on topics such as education, small business management, law, conflict resolution, health care, etc.
Together, they become co-responsible of their microloans and set up their instalment plan in three or five months. If one of them has a problem, her group-colleagues support her and lend assistance until her situation is settled.
The whole group must have reimbursed the whole amount to be eligible for a new loan.
Recognized supervisors follow 10 groups and report to CEMADEF staff.
Each CEMADEF centre is managed by a professional team.
This strict system encourages members to stick together, and facilitates the follow up of activities launched by the women.
Therefore, CEMADEF members become respected actresses in local development. And once their personal situation is settled, they are proud to fly on their own and let others benefit from the organization.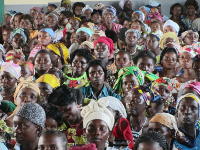 From 44 to 8,500 women
As of the close of 2014, seven CEMADEF centres are operating in Ituri, with 8,500 members. This means that many families are impacted by the project and emerging from poverty.
Women are welcome to CEMADEF regardless of their religion, status, or ethnicity.